More beauty and shine to your hardwood floors!
We apply only products and techniques that guarantee fantastic results. We are highly capable and polish all strategies used to guarantee an incredible sand and refinish service.
Enhance your hardwood beauty with the ones who can do it for you
HIGHLY recommend Tidi's Hardwood Floors! They did an incredible job re-staining our red oak floors. Tidi is professional, punctual and friendly. We couldn't be happier with our floors!!
It was a pleasure working with Arilson. He was very pleasant and professional. Always quick and responsive to address any questions.
Tidi and his team were just wonderful! We absolutely LOVE our new floors. Tidi was very available and worked tirelessly to find our Douglas Fir floors to match the rest of the house. They had the best price and were flexible with our schedule and the quality is fantastic! Thank you so very much!!!
Best bid of all that I received. Showed up next day, finished within 2. Work quality was excellent. Very happy, would - and already have to my brother - recommend.Photos are before during putty / wood filler, and after while poly is drying. I have very old floors so think it looks great, perfectly flat.
The crew was very punctual, professional and good at what they do. The power went out and they came back the following day and finish the job. Am pleased with their work and am going to hire them again next week. I would recommend them to anyone.
the best I found on the market, quality service professional and competent boys I thank Arilson owner of the company for all the support and support for making my home even more beautiful 🌟👏🏻👏🏻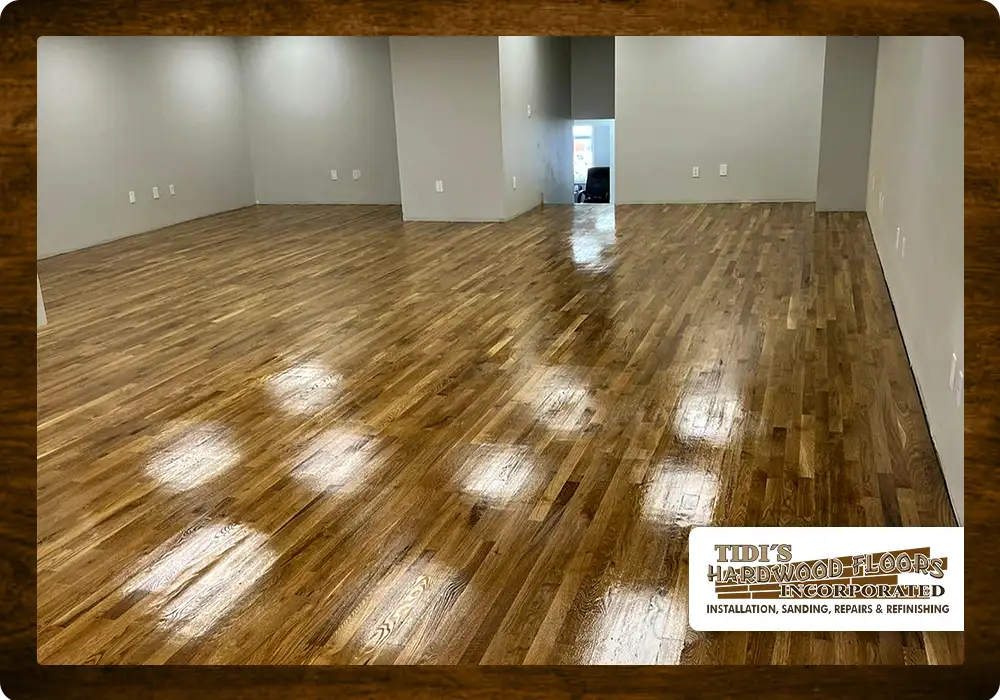 Your place is initially prepared by our team so the wood receives the necessary amount of sand, only this way all the space will have its glow and beauty renewed.

On our refinishing service, we apply the product and use the correct equipment so each corner receives the material, and your hardwood has a radiant and charming beauty over again.

We are specialists in both of these services and have all necessary equipment so your space is transformed in the way you so desire.
Restore the beauty of your space to see the unique characteristics of hardwood more visible
Know how your hardwood flooring will look like after our sand and refinish service:
Over 35 years executing 100% satisfying flooring services that transformed hundreds of Massachusetts families' lives. Those families live now in a much more cozy, safe, comfortable, practical space, and with certainty the service done by our team will last for many more years because Tidis Hardwood Floor is, and will always be, the only option for those who want qualified services for their floorings.

We are partners with high quality products suppliers, providing, this way, excellency through our services, but also professionalism, ability and our team experience to execute each of the services impeccably.